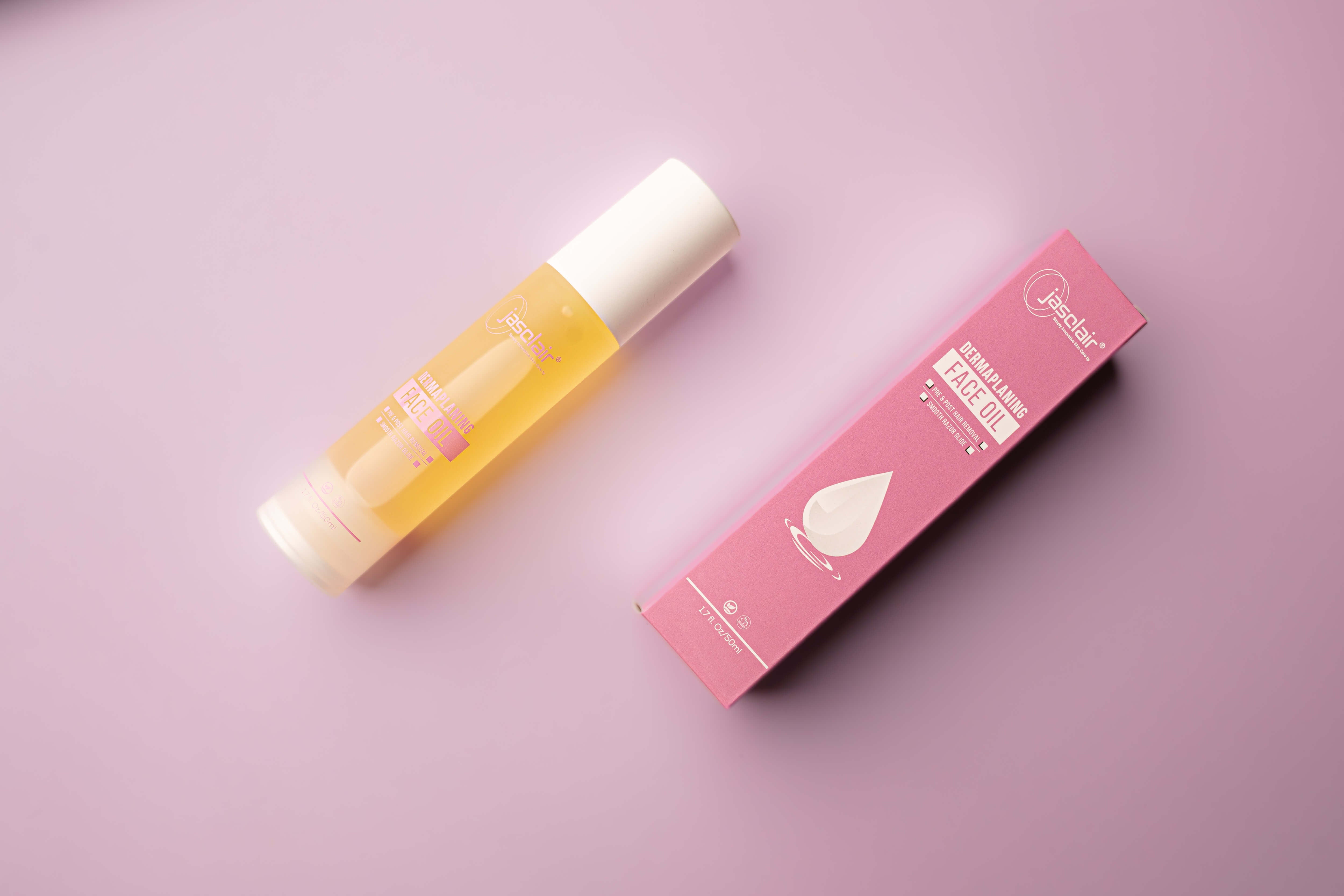 in Dermaplaning
Oil For Dermaplaning Says Good-Bye to Razor Burn
You skin care experts probably already know that dermaplaning is a cosmetic procedure that involves using a sharp blade to remove the top layer of dead skin cells from the face.
This  of course helps to improve the appearance of fine lines, wrinkles, and acne scars.
It removes vellus hair (aka peach fuzz) from the face and body.  It also helps to reduce the appearance of fine lines and wrinkles, because it helps to make the skin look smoother and softer.
Dermaplaning is also great for reducing the appearance of acne scars.
However, it goes without saying, putting a blade on your skin, makes it susceptible for cuts and nicks on your skin.   
Thankfully, there is an easy solution to this common problem.
Dermaplane Oil Defends Against Skin Irritation
When it comes to dermaplaning at home, oil is definitely your friend!
It is often used during dermaplaning to help the blade glide more smoothly over the skin.
This helps to minimize the risk of irritation, redness, and other annoying side effects such as razor bumps, cuts, nicks and scratches.
Dermaplaning oil will also help to hydrate and nourish the skin.
Skin Nourishing Formula
Our lightweight dermaplaning oil is formulated with a unique combination of ingredients that nurture and rejuvenate the skin.  
It includes essential grapeseed and meadowfoam seed oils that provide fast hydration and antioxidants to help maturing skin.  
In addition, the cranberry seed oil is rich in omega fatty acids and delivers extra soothing benefits.
Vitamin E helps strengthen the skin's protective barrier.   
Apply it as a pre shave oil to prepare the skin prior to shaving.
It will soften the facial hair leading to an easier and comfortable shave.   It can even be substituted for a shaving cream or gel when using any safety razor for hair removal.
Here Is the best way to use the dermaplaning oil.  Follow these basic steps for baby smooth hair-free skin.
4 Easy Steps To Use the Dermaplaning Oil
Step 1. Cleanse your face
First, you want to make sure your face is totally clean and free of makeup or grime.
It will help the razor glide more easily and provide a closer shave. Shaving after showering might be best to soften your peach fuzz. 
Otherwise, wash your face with a gentle cleanser or face wash for sensitive skin. 
Step 2. Apply the face oil
A little bit of oil goes a long ways.   
Simply apply a few drops of the dermaplane oil or as much as needed to get a thin full coverage layer over the shave area prior to starting your dermaplaning session.  
Step 3. Shave in short and light strokes
Using a good-quality dermablade, hold and  tilt the razor against your skin at a 45 degree angle.   
With  your other hand, use your fingers and thumb to pull the skin taut.  This prevents the razor from skipping or tugging on the skin.  
Then when ready,  use short, light strokes with the razor blade to shave the hair in the direction to prevent ingrown hairs.  
Step 4. Rinse and moisturize
Splash some water over your face to wash away any left over face fuzz. 
Then apply a little bit or more of the oil as an after shave to give you a fresh, and hydrated look.  
Now, go show off your glow!
A NECESSARY ADDITION FOR YOUR DERMAPLANING KIT
The amazing benefits are clear.   
The dermaplaning oil forms a protective barrier for your skin during shaving process.
It is a powerful, skin-friendly defense against the common razor blade irritations, redness and scratches that occur during dermaplaning and shaving.
The shaving oil should STRONGLY be considered to be added to your dermaplaning process.  
Using the oil as a regular part of your skincare regime will result in healthy, radiant, and soft skin.  

Are you ready to supercharge your dermaplaning routine?