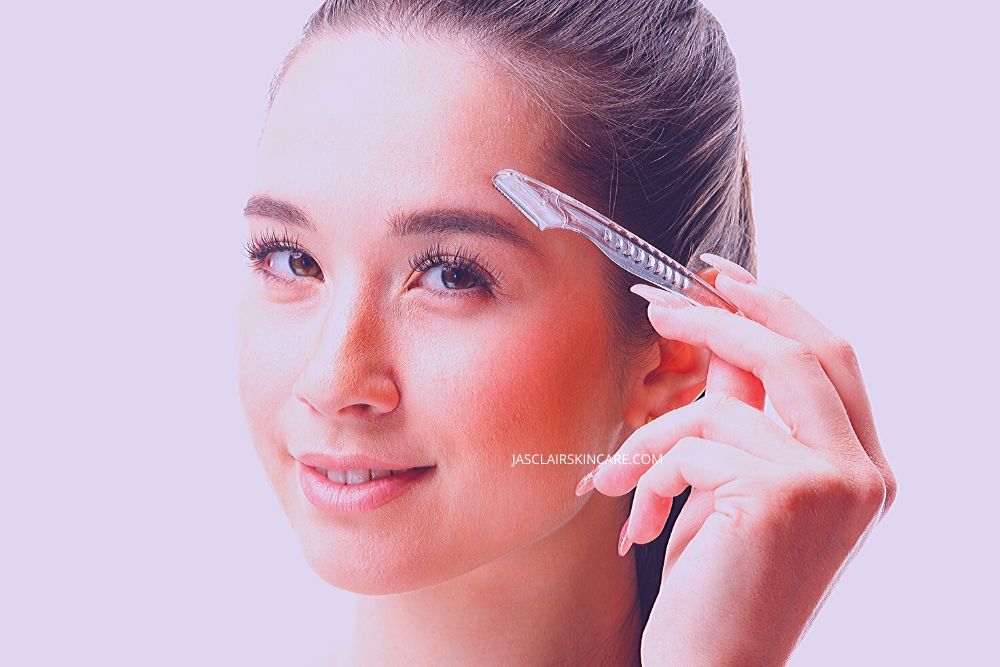 in Dermaplaning
The Eyebrow Cutter Is a Must Have Beauty Tool
According to  the New York Post, the average woman spends $313 a month on her appearance.  
$313!  
Having that kind of monthly disposable money right during the Covid-19 pandemic would certainly help more than a few individuals. 
We are still learning to adapt with the closure of businesses, communities and schools all across the country. It may be awhile before our favorite bar, restaurant or salon will open for business again.   
A well-balanced approach between being frugal and maintaining a certain lifestyle is needed during difficult times like this. 
But there is one daily personal problem most of us face which is typically an after thought until we need to deal with it.  The hair on our bodies continues to grow, regardless of whether the economy is growing or shrinking.
You may be wondering how to tackle the issue of unwanted hair sprouting on your face, at home.
Perhaps home wax, scissors or tweezers come to mind.
Home wax can be messy and painful.   Scissors are not so clean and precise as you have to awkwardly position the scissors on your face.   Tweezers can be painstakingly slow as each strand of hair has to be individually plucked out.
So what's left? 
Luckily, we have the solution in an affordable cosmetic tool to help you shape and touch up your eyebrows at home cleanly, conveniently, precisely and quickly.
The Jasclair Eyebrow Razor
Eyebrows are one of the most underappreciated parts of the body.  They are essential in expressing emotion and help reflect your personality.
Just as hairstyles, eyebrow looks can also define your look.
Impeccably shaped eyebrows will improve your facial features and provide balance to your overall look.
Removing hairs around the eyebrows is a delicate process. The skin around the eyes is very thin which makes it vulnerable for scrapes.   You need to be cautious and use the right tool when attempting to strip away the hairs in this area.  
The Jasclair multi-purpose touch-up razor will help you skillfully shape and perfect your brows fast and easy. 
Don't let a couple of wispy strands of hair on your face ruin your look.
The razor will smoothly glide over your skin to remove those fine hairs effortlessly.   It will get underneath your eyebrows, re-define your arches for a clean-up your look.
Unlike other hair removal methods such a threading, tweezing and waxing, it won't cause any pain or irritation. You won't feel a thing besides baby smooth skin afterwards.
The small and lightweight design of the razor makes it a breeze to store in your purse or bag.  It comes with a protective safety cover that you slide over the blade when it's not in us.    
Take with you on the go.   Whenever a minor touch-up is required, just whip it out and take care of those brows.
And it gets even better. 
This razor will also gently exfoliate your skin like a mini microdermabrasion effect.
The Benefits of Dermaplaning By Using the Razor
Exfoliation helps rejuvenate your skin.   
When the  top layer of dead skin cells is removed, it creates an exposed surface for fast absorption of nourishing facial creams, moisturizers, oils and serums. 
In addition, foundation and other make-up can be more effectively applied on the smooth skin for a glamorous million-dollar look. 
If you have ever had a dermaplaning treatment at your local dermatologist or spa you know that these sessions are not cheap.    Not only is dermaplaning at a salon heavy on your bank account, it can also be a time burden.
Think about it. 
For one dermablading session, usually all of the steps below need to be done. 
Book an appointment (often during regular business hour only)

Commute to the dermatologist or

esthetician

Patiently sit through the treatment which can take an hour

Commute back home
And with the current coronavirus situation, your local dermatologist or beautician maybe closed for business.
The good news is that you can continue to maintain your fresh skin complexion by dermaplaning at home. Not only will DIY'ing save time, it will also save a heckuva lot of money by simply using these eyebrow razors to dermplane your face.    Follow the simple steps to dermaplane at home.
For best results,  use the eyebrow razor together with the longer dermablades.     Together, they form the ultimate one-two punch for exfoliation and removing fine hair.
Both types of razors have a different blade length.  Each length will help you maximize the coverage of almost all surface areas of the face.
The longer length of the dermaplaning tool will quickly exfoliate and remove the vellus hairs ("peach fuzz")  on the larger skin surface.   Then for fine-tuning, use the eyebrow razor to get more accurate in small, hard-to-reach areas. 
There are two important features that make the Jasclair brow razor so effective for exfoliating the skin, shaping and trimming the eyebrows.  
Designed for Precision
The compact design of the handle and razor blade allows it to fit comfortably in and around the contours of the eyebrow area.   You will be able to pinpoint the strands of hair to remove them with accuracy.
It's perfect for the nooks and crannies on the face.
High Quality Steel
The blades are made of special type of stainless steel called razor  blade steel.
Without getting too nerdy and scientific, the alloy composition of chromium, carbon and iron makes this a very durable razor.   
Dean Simmons, a chemist at Sandvik that produces the essential razor steel, elaborates:
The complete metallurgy process and properties ensures that the razor blade steel contributes to long-lasting steel for high-quality razor blades
This means that each razor will last multiple uses if used correctly.  So you will definitely get your bang for your buck. 
But before beginning to use the razor to shave away those fuzzes, you need to decide on what kind of eyebrow shape will best suited for your face and head. 
Selecting the Correct Eyebrow Shape 
Each person's eyebrows are unique.  Your brows can be bushy and thick or thin and straight.
It can be difficult to know which brow shape will suit your appearance.
The arch, contour and length of your eyebrows are all important considerations when shaping your eyebrows
Choose a shape that flows with your appearance so your brows are flawlessly tailored to your facial features.
We've made it easier for you to select the best shape based on your face shape.
Diamond
Main Feature
Hairline narrow than cheeks
Slight pointed chin
The diamond face shape can often give an exotic facial appearance.  With this shape, the eyebrow is on the widest part of the face.  This can be broken up by soft curves and rounded brow which also helps soften the angles.
Heart
Main Feature
Narrow and pointy chin
Cheeks are wider than the hairline
This face shape is adoring.   The key is to contrast with the jaw line angles to soften the effects.  A rounded and low-arched curve of the eyebrow will help build contrast. 
Long
Main Feature
Face is twice as long as it is wide
The long face shape glows with style. The goal is to avoid making the face look longer than it is. This can be achieved with flat, thick, straight brows. Going with this shape will break up the face and prevent the eyes from travelling up and down.
Oval
Main Feature
Face length is about 1.5 times longer than width
 Go with a soft angled brow easy for easy contrast and complement the curves.
Round
Main Feature
Rounded jaw and chin
Face is equally long and wide
 It is made up for forgiving soft contours and lines. Go with an easy angled arch.   This will help to provide contrast and complement the curves.
Square
Main Feature
Hairline and jawline have an even width
Face is equally long and wide
A squarer jaw can be presented as a striking feature of the face with sharp, defined features.  Balance this out with by softening the eyebrows with gentle round arches.
Once the eyebrow style is decided, its time to whisk away the fine hairs. 
We got you covered on learning how to use the eyebrow razors.
How to Use the Jasclair Eyebrow Razor
Before getting started, you will need a few basic items.
Your jasclair® eyebrow razor (of course!)
Facial cleanser – any basic facial cleanser without any active/harsh ingredients
Optional: lotion, face oil or shaving cream
Head band/hair tie – To keep your hair back and out of your face!
 Follow these 4 simple steps to get the tinkle back in your brows. 
Step 1
Wash your face or the treatment area with a gentle facial cleanser to ensure all makeup and oils are removed from the skin
Step 2
Soften the area with face oil, lotion or a shaving cream if necessary. We recommend a sweet almond, apricot or jojoba oil to allow for blade to glide easier on the skin with less irritation.
Use your non-dominant hand to hold the skin around the eyebrow taut. This will help you get a closer, more detailed shave. Then use your dominant hand to begin shaping your eyebrow.
Step 3
Start shaving with the hair growth. Use short strokes at a 45° angle. Begin with under your brow area first.  It's important that you stroke the razor in the same direction that your eyebrows grow.
Step 4
Wash your face after you finish with a gentle facial cleanser. Pat dry.
It's that simple.
Your new eyebrow shape will last approximately 2 – 4 weeks after you are done.
The longevity ultimately depends on the speed of your hair growth.
And remember, when the blade becomes dully, throw it away and use a new one.
The Bottom Line
The eyebrow razor remains an underutilized tool in many women's skin care routine. 
Don't let the cute and small size of this eyebrow razor fool you though on its versatility.   
This is razor is a much more affordable and time-saving solution for shaping your brows than making money and time consuming appointments at a beauty salon.
It's a reliable tool that will help shape your brows to perfection while using regularly for maintenance and touch-ups.
Get on board the revolution and add the eyebrow razor to your beauty repertoire. 
Ahh, immaculate eyebrows always!
Are you ready to give the Jasclair eyebrow razor a try?